We can all use a dose of good news now and then.
We want to hear how you are doing good while eating at The Works. Or how you're doing good on the way to The Works. Or just how you're doing good or being good however you can in the world (even if it's still in dreamy stages…).
We want to hear about your good works that may, or may not be, energized by a breakfast burrito or inspired by a delicious sandwich. And we hope the sharing of them will bring with it a sweetness like that of any of our fresh-baked goodies.
Who knows, we may publish your good works! Yes, your submission may be chosen as a winner! It may be published earning you extra pride, bragging rights, notoriety, or even some currency from The Works in the form of a gift card.
The May "Good Works" winner is Katharine Schillemat.
Read their winning entry: Dialing with Smiles!
Next contest ends June 30th.
See the archive of past winners here.
349 lbs of trash collected in one afternoon by one person
18 sticks of pastel chalk exhausted drawing mandala
hundreds of amphibians ushered
INSTRUCTIONS (see rules below)
Enter online. Fill in the information on the page entitled "Good Works".
We are looking for unique, thoughtful, creative submissions. Whether simple or elaborate, we want you to share conscious examples, or descriptions, of your good works—the everyday and the heroic.
Submissions may be stories, drawings, poems, photographs, etc. Attach your file(s) for submission and enter. An automatic reply will be sent by The Works as a receipt for any submissions received.
Every month a "Good Work" will be chosen, awarded and possibly even published by the The Works on our website. If you have not received a congratulatory email from The Works within a month your submission was not chosen as the winner. We do encourage you to submit again.
Sometimes a piece doesn't win or make it onto our site because it is too similar to something else we've heard, seen or published. Sometimes it is so amazing but there are too many amazing's submitted within the same contest period. Sometimes you need to just work harder. Please don't let that stop you from doing more good work!
RULES
All entries must be submitted online. Attach any submission as a word document or PDF. Art submissions can be jpegs or links to your work elsewhere. Please include the submission name in the subject line of your email. Letting us know how The Works inspired your submissions is helpful as well. You will receive acknowledgement of your submission in the form of an automatic reply, but we regret that we are unable to answer all emails.
One entry per person, per email address, or Instagram account, per contest period. Anyone can enter, even employees (judges & CEO may enter but will not be eligible for any monetary prizes of any kind).
A contest is held each month. Each new contest begins on the first day of the month and ends on the last day of each month. Contests end at 11:59 PM on the night before the following contest begins.
Entries or votes that are lost, late, misdirected, garbled, or incompletely received, for any reason, including by reason of hardware, software, browser, or network failure, malfunction, congestion, or incompatibility at the website or elsewhere, are not the responsibility of the The Works, and will not be eligible. The Works further reserves the right to cancel, terminate, or modify any Contest not capable of completion as planned. The Works is not responsible for errors in the administration or fulfillment of this Contest, including, without limitation, mechanical, human, printing, distribution, or production errors, and may modify this Contest based upon such error at its sole discretion without liability and where circumstances make this unavoidable.
Entrants represent and warrant that their submission is their original work, it has not been copied from others, and it does not violate the rights of any other person or entity.
All entry materials become property of The Works and will not necessarily be acknowledged or returned. The copyright in any submission shall remain the property of the entrant, but, in exchange for the possibility of publication of the submission by The Works, entry in this Contest constitutes entrant's irrevocable, perpetual permission and consent to The Works, and others authorized by The Works, without compensation or attribution to:
use, reproduce, print, publish, transmit, communicate to the public, distribute, sell, perform, adapt, enhance, or display the submission and the entrant's name for editorial, advertising, commercial, and publicity purposes, in any and all media now in existence or hereinafter created, throughout the world
do (or omit to do) any acts in respect of the submission which may otherwise constitute an infringement of the entrant's moral rights
edit, adapt, and modify the submission—except to the extent prohibited by law
Each entrant releases and discharges the The Works, the judges, any party associated with the development or administration of the Contest, their employees, agents, or representatives, or any of their parents, subsidiaries, or affiliates from any and all liability in connection with the Contest, including, without limitation, legal claims, costs, losses or damages, demand, or actions of any kind.
The Works collects personal information in order to conduct the Contest and may, for this purpose, disclose such information to third parties. Entry is conditional on providing this information. The Works may also use the information for promotional, marketing, and publicity purposes.
The winner of each Good Works Contest will receive a gift card from The Works redeemable at any one of The Works Cafés (see website for list of locations).
Katharine Schillemat: Dialing with Smiles!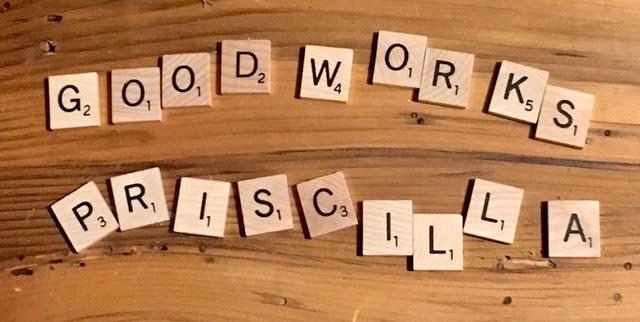 I want to tell you about my friend, Priscilla Walter, who is 97 years young (and my birthday buddy). Obviously she doesn't get out right now because of the COVID-19 Stay At Home order, but she is such a gregarious person that she has to do something to keep in touch with people.
In Nelson, we have a little booklet of telephone numbers for everyone in town who is willing to share their contact information. So Priscilla decided that she would call everyone in the town directory, whether she knew them or not, just to check in and see how they were doing in this challenging time. Priscilla is legally blind, so she uses a magnifying glass to read. Calling everyone means reading their phone number and dialing it accurately while using a magnifying glass, but nothing stops Priscilla from reaching out, one person at a time, to let her neighbors know someone cares.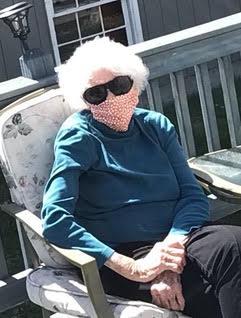 And when things open up again, you can bet that Priscilla will be among the first people to call me up to ask me when I am coming down for a game of Scrabble.